Travel Club
Join our Philadelphia Chocolate Tours Travel Club on sweet VIP trips, including to the Miami Chocolate Festival, the NYC Chocolate Show, and the Eurochocolate Festival in Perugia, Italy!
Women's Business Retreat and Miami Chocolate Festival: January 25 - 27, 2013
Philadelphia Chocolate Tours Founder and CEO Valerie Beck is also Co-Founder and President of Women's Innovation Network - WIN, which means a very sweet Miami Retreat! Join Valerie on an excursion to the Miami Chocolate Festival, plus leadership education and her Miami Chocolate Tour:
Miami Chocolate Festival display
Warm up your winter at the WIN Winter Retreat in Miami this January 2013, including a trip to the Miami Chocolate Festival!
WIN President Valerie Beck, also Founder of Philadelphia Chocolate Tours and a Retreat speaker (left), with WIN Winter Retreat special guest speaker Nina Cortes of Project Accessory
What: Women entrepreneurs are invited to the Women's Innovation Network (WIN) Winter Retreat, for education and relaxation. Begin 2013 with clarity, inspiration, and joy, for your business and for yourself. You deserve it!
When: Friday 1/25 – Sunday 1/27, 2013.
We'll have a Welcome Dinner on Friday, and educational sessions on Saturday and Sunday mornings, with inspiring speakers including Project Accessory jewelry designer Nina Cortes, and Chicago Chocolate Tours Founder Valerie Beck. Build relationships with other participants during our Miami excursion options including to the Miami Chocolate Festival and a Miami Chocolate Tour led by Valerie. There will also be free time for your own relaxation and spa treatments. See below or www.ladiesofwin.org for the agenda.
Chocolate pastries from Versailles Bakery, a stop on Valerie's Miami Chocolate Tour
Where: EPIC Hotel in Miami, voted a World's Top Hotel by Conde Nast Traveler. Exhale spa is located on the premises. 270 Biscayne Boulevard Way, Miami, FL 33131. www.epichotel.com
Cost: $250 includes educational sessions, Welcome Dinner, Chocolate Festival, Miami Chocolate Tour. Flight and hotel packages are available such as $922 which includes round trip flight from Chicago to Miami, 2 nights double occupancy at the EPIC, and wine receptions at the EPIC. Some packages can be held with a $135 deposit by 11/6/12.
Book: Contact us at info@chicagochocolatetours.com or info@womensinnovationnetwork.org to register. See full package choices and fill out the Retreat registration which will be posted at www.ladiesofwin.org. You may contact travel agency owner Andrea Parkins at andrea.parkins@livethedreamtravels.com or 815-575-7725 to book your travel to the Retreat, or with travel or hotel inquiries.
Pool at the Epic Hotel
Agenda:
Friday 1/25

- Arrival, check-in, free time.

Friday 5 pm

- Wine reception at hotel.

Friday 6:30 pm

- Welcome Dinner at hotel.

Saturday 1/26 8 am

- Business Breakfast at hotel.

Saturday 9:30 am - 12 noon

- Educational sessions at hotel.

Saturday 12 noon

- Free time for lunch, excursion options including the Chocolate Festival, beach or Vizcaya Museum, or spa options.

Saturday 5 pm

- Wine reception at hotel.

Saturday 7 pm

- Leadership Dinner offsite, followed by boat cruise.

Sunday 1/27 8 am

- Business Breakfast at hotel.

Sunday 9:30 am - 12 noon

- Educational sessions at hotel.

Sunday 12 noon

- check-out.

Sunday 1 pm

- Lunch at hotel, with closing remarks for an inspired new year.

Sunday 3 pm

- free time, Miami Chocolate Tour option.
Get ready to warm up your winter, soothe your soul, rev up your business, and celebrate a new year with Ladies of WIN!
The mission of the Women's Innovation Network – WIN is to foster massive business growth for women entrepreneurs, through innovation, inclusion, and inspiration, in a positive and ethical environment. www.ladiesofwin.org
The mission of Philadelphia Chocolate Tours is Uplift Through Chocolate! www.philadelphiachocolatetours.com
~~~~~~~~
** Watch for 2013 dates! **
From 2012:
We support those affected by Superstorm Sandy, including our Philadelphia and Boston teams, customers, and partner stores, and our New York friends and Chocolate Show participants. Click to make a donation to the American Red Cross over their website or through itunes.
Our annual New York Chocolate Show VIP Trip: November 9 - 11, 2012
Valerie with Chef Francois Payard at a previous Show
New York Chocolate Show - the "Big Apple" becomes the "Big Truffle!"
What: Join Philadelphia Chocolate Tours founder Valerie Beck on a scrumptious journey through the New York Chocolate Show! Sample the latest from creative US and international chocolatiers, enjoy meet-and-greets with chocolatiers and pastry chefs, and step outside the show with Valerie, who will take you on a walking tour to some of her favorite NYC chocolate shops. Treats and treasures await!
When: This year's Chocolate Show runs Friday, November 9 to Sunday, November 11, 2012.
Where: The Metropolitan Pavilion, 125 W. 18th St., New York City (map).
Scenes from a previous Show
Our Travel Club itinerary:
Friday 11/9, 6:00 pm -- Our Champagne and cupcake reception, plus a book signing event with Valerie for her book *Positive Parables for Winning in Business and Life*, M Missoni boutique, 426 West Broadway, in Soho (map), no charge for the event.
Saturday 11/10, 1:00 pm to 5:00 pm -- VIP tour of the Chocolate Show, visiting exhibitors and demos, $40, includes daylong pass to the Show which opens at 10:00 am.
Saturday 11/10, 7:00 pm -- dinner with Valerie and other Chocolate Travel Club members, $75, including chocolate dessert, of course! Location tba.
Sunday 11/11, 1:00 to 3:00 pm -- New York City Chocolate Tour with Valerie, walking to some of her favorite shops. $40.
Package of all of the above: $125.
Questions and purchases: Purchase a la carte, or choose the full package including everything in the above itinerary for $125. Buy online or call us at 215-833-0044. Package does not include flight or other transportation or lodging. Scroll down to see terms and conditions below.
Travel: Our preferred hotel is the Kimpton Eventi, which is within walking distance of the Chocolate Show. And, feel free to do what Valerie does and make a donation to the Conservation Fund's Go Zero program, to plant trees to offset the carbon footprint of the trip.
You too may need to bring home an extra bag filled with chocolate!
~~~~~~~~
** Watch for 2013 dates! **
From 2012:
Save the dates of October 25 - November 2, 2012, for our trip to the famous international Eurochocolate Festival in Perugia, Italy, and to Rome, the eternal and "eternally sweet" city! Enjoy relaxed VIP treatment with a small group, on this chocolate lover's dream trip.
Itinerary
~ Fly into Rome where our driver will be waiting to take us by private motorcoach to the charming medieval town of Perugia, in Italy's Umbria region.
~ In Perugia, we'll stay in the famed 5-star Brufani Palace Hotel, which dates from 1884 and was built on the site of a medieval fortress, atop Etruscan ruins which can be seen from the swimming pool. Illustrious guests at the Brufani Palace have been many, including England's Queen Mother, Charlie Chaplin, Anthony Hopkins, and Bruce Springsteen. The hotel is featured in the book Cool Hotels: Best of Europe.
~ The first night will feature a welcome dinner with Philadelphia Chocolate Tours Founder Valerie Beck - and lots of chocolate dessert of course!
~ The next day, we're off to the Eurochocolate Festival in Perugia, a chocolate lover's dream come true. Valerie will lead our group as we sample and learn about fine chocolate from many countries over multiple visits to the Eurochocolate Festival, which with 900,000 visitors per year is the largest chocolate festival in Europe. Our group will participate in chocolate tastings and workshops, and will have special private sessions with chocolatiers and chefs. Click for a New York Times travel article on enchanting Perugia and the fabulous festival.
~ To combine sweet and chic, we'll have a private driver as we go on an excursion to the nearby Brunello Cucinelli cashmere factory and outlet store.
~ After 4 days in Perugia enjoying chocolate, cashmere, more chocolate, our gorgeous hotel, additional chocolate, the beautiful town and surroundings, and of course chocolate, our private driver will take us to Rome.
~ In the Italian capital, we'll stay three nights at the 5-star boutique hotel St. George, also featured in Cool Hotels: Best of Europe. Click for a video about the hotel.
~ We'll enjoy a "Rome Chocolate Tour" led by Valerie, including a trip to the oldest chocolate shop in Rome - Moriondo & Gariglio - plus an excursion to enjoy molten Roman hot chocolate, world-famous Roman gelato, and more. And, we'll have our own chocolate dessert-making class.
~ We also have art and fashion excursions within Rome, to cleanse our palates for the next chocolate tasting! And, we'll have plenty of time for independent relaxation or touring in both Perugia and Rome.
~ Our 9-day 2012 Chocolate Travel Club journey to Italy will conclude with a farewell dinner in Rome with Valerie, as we plan for our next sweet adventure!
Prices start at $3,500 including airfare and hotels, and $250 will reserve your spot. For more details or to make reservations, contact Philadelphia Chocolate Tours at info@philadelphiachocolatetours.com or 215-833-0044, or contact our US travel professional Maria Meyer of travel agency Select Italy in Chicago, whose president Andrea Sertoli is on Travel+Leisure's A-List, at maria@selectitaly.com or 312-664-4201.
Full itinerary coming soon; details subject to change.
See below for terms and conditions.
Philadelphia Chocolate Tours will make a donation to the Conservation Fund's Go Zero program, to plant trees to help offset the carbon footprint of our trip.
Space is limited, so please contact us to express your interest, and get ready to travel sweet!
~~~~~~~~
Mediterranean "Cocoa Cruise" April 25 - April 30, 2011
What: Get ready to sample fine European chocolate in Europe with Philadelphia Chocolate Tours Founder Valerie Beck! Valerie lived in Europe for 5 years and will lead chocolate tours in the cities we'll visit on Royal Caribbean's 5-day Western Mediterranean cruise, making it a Cocoa Cruise for our group. Sample the sweet side of Barcelona, Cannes, Florence, and Rome, as you learn about the history of these great cities and their amazing chocolate. A world of chocolate awaits!
When: April 25 - April 30, 2011, for a fabulous 5-day Cocoa Cruise. Please book through our preferred partner, Marcy Gelber of Travel by Marcy / FCm Bannockburn Travel, at marcy.gelber@us.fcm.travel or 847-597-5911, who can also arrange your flight and can extend your trip if you wish.
Where: We'll cruise the Mediterranean on Royal Caribbean's Liberty of the Seas. Our scheduled itinerary, including ports where we'll sample the chocolate wonders:
Barcelona

Cannes

Livorno / Florence

Civitavecchia / Rome

Day at sea

Barcelona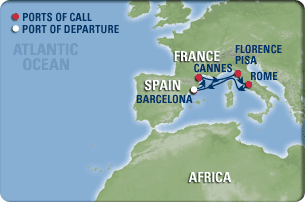 Pricing: Prices start at $969 per person for the cruise and the chocolate walking tours in 4 cities, including transportation to and from the ship:
Interior stateroom plus chocolate tours: $969

Outside stateroom plus chocolate tours: $1,099

Balcony stateroom plus chocolate tours: $1,249

Deluxe/Suites stateroom plus chocolate tours: $1,699
A deposit of $500 is requested by January 22 to reserve your spot.
Prices are per person, based on double occupancy, not including goverment taxes or fees, or your flight. Itinerary is subject to change by Royal Carribean.
Philadelphia Chocolate Tours will make a donation to the Conservation Fund's Go Zero program, to plant trees to help offset the carbon footprint of our trip.
Booking: Please contact us online or at 215-833-0044 or info@philadelphiachocolatetours.com for more details. Come cruise with us!
~~~~~~~~
Terms and Conditions
Statement of Responsibility and Limitation of Liability:


All passengers acknowledge that participation in a trip with us and its activities involves the risk of injury to their person and property and they voluntarily accept all risk of personal injury and property damage arising from their participation in the tour. As lawful consideration for being permitted to attend the tour and participate in these activities, the passengers hereby release and discharge Philadelphia Chocolate Tours and its officers, directors, employees, contractors, agents, sister companies, and related entities from all claims and demands whatsoever that the passengers may hereafter have for injuries due or due in part by the negligence or other wrong doing of such organizations for their officers, directors, employees, agents or related entities.

Without limiting the foregoing, Philadelphia Chocolate Tours can assume no liability for injury, damage, loss, accident, delay or irregularity in connection with the services of any ship, airplane, train, automobile, motor coach or any other conveyance used in carrying out the tour, for the acts or defaults of any company or person engaged in conveying the passengers or in carrying out the arrangements of the tour, or for losses or additional expenses due to delay or changes in air or other services, sickness, weather, strike, war, quarantine, acts of God or other causes beyond their control. All such losses will be borne by the passenger. We reserve the right to make alterations to the itinerary as may be deemed necessary for carrying out the tour. All schedules, hours of arrival and departure and special programs are subject to change without prior notice. Philadelphia Chocolate Tours shall not be required to refund any portion of the tour cost or fare or make any other compensation under these circumstances.

Philadelphia Chocolate Tours cannot be responsible for penalties assessed by domestic and/or international carriers that may result due to operational and/or itinerary changes, regardless if passenger and/or Philadelphia Chocolate Tours make the flight arrangements. Any additional expenses resulting from the above will be paid by the individual passenger. The right is reserved to substitute hotels in similar categories. The right is reserved to cancel any tour prior to departure, in which case the entire payment may be refunded without further obligation on the part of Philadelphia Chocolate Tours. No refund will be made for unused portions of any tour. By forwarding of deposit, the passenger certifies that he/she does not have any mental, physical or other conditions of disability that would create a hazard for him/her or other passengers and accepts the terms of this contract. The right is reserved to decline to accept or to decline to retain any person as a member of any tour should such person's health, actions or general deportment impede the operation of the tour or the rights or welfare or enjoyment of other passengers. Baggage is at the owner's risk entirely. It is understood that the air ticket when issued shall constitute the sole contract between the passenger and the air companies concerned.
~~~~~~~~